Adopting technological innovation into the educational process with a vision to transfer new knowledge into the industry
ABB in Thailand and King Mongkut's Institute of Technology Ladkrabang (KMITL) have inked an agreement to foster closer cooperation and put in place a framework that facilitates research and development for industrial robots with the purpose of enhancing education for the next generation of engineers. The growing adoption of robots in all walks of manufacturing is creating increased demand for workers with skills in programing and operating robots, and many new career paths.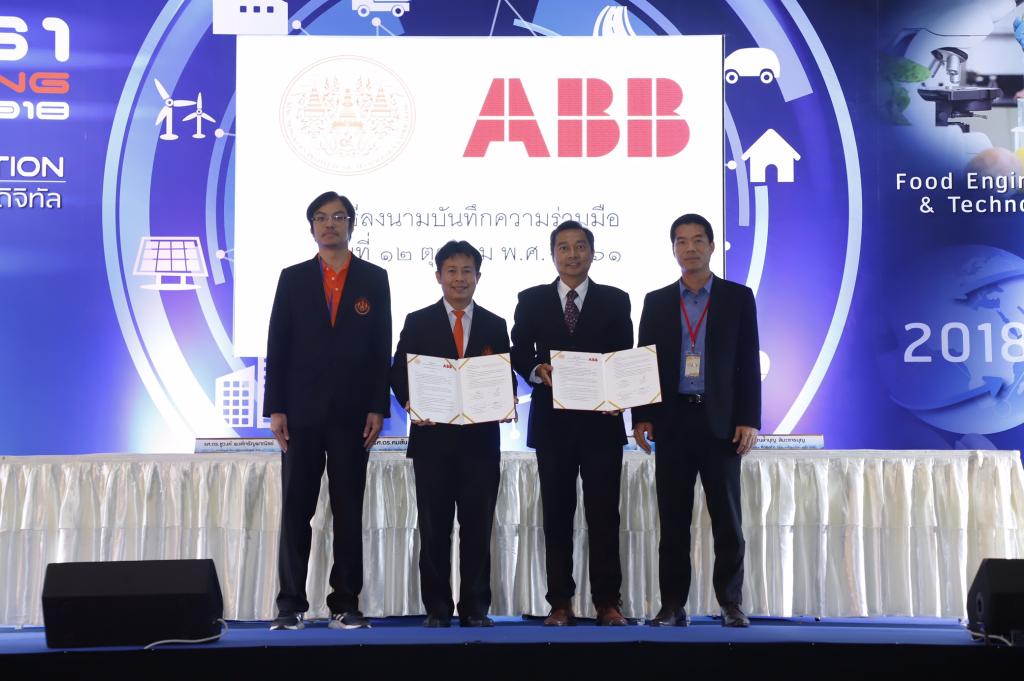 The Memorandum of Understanding (MoU), was signed by Mr.Sirichote Singsa, Vice President of ABB in Thailand and Associate Professor Dr.Komsan Maleesee, Dean, Faculty of Engineering, KMITL, to formalize the mutual interaction and strengthen the existing cooperation between the two entities, focusing on sharing of information and development of engineering education to build a skilled workforce.
"I'm pleased to see this MoU in place to create synergy between KMITL and ABB; cooperation in educational resources development as well as transfer of knowledge and technology in development of the industrial robots in various industries. This is in line with the Thailand 4.0 policy that is targeting innovation as a means of development," said Mr.Sirichote.
"The collaboration with ABB is a significant milestone for KMITL, especially in the area of nurturing students with knowledge of industrial robotics to equip them with the necessary skills to be well-placed in Thailand's changing and growing industrial landscape," said from Associate Professor Dr. Komsan Maleesee.
KMITL was founded in 1960 in Nonthaburi province as a telecommunications training center under the technical support of the Japanese government, and was later named the Nonthaburi Institute of Telecommunications. After moving to a new location at Ladkrabang near Suvarnabhumi Airport, the campus became King Mongkut's Institute of Technology Ladkrabang. Engineering studies began at KMITL since it was founded with a course on telecommunications engineering and the institution is now recognized as one of the top science and technology universities in Thailand.
ABB (ABBN: SIX Swiss Ex) is a pioneering technology leader in power grids, electrification products, industrial automation and robotics and motion, serving customers in utilities, industry and transport & infrastructure globally. Continuing a history of innovation spanning more than 130 years, ABB today is writing the future of industrial digitalization with two clear value propositions: bringing electricity from any power plant to any plug and automating industries from natural resources to finished products. As title partner in ABB Formula E, the fully electric international FIA motorsport class, ABB is pushing the boundaries of e-mobility to contribute to a sustainable future. ABB operates in more than 100 countries with about 147,000 employees. www.abb.com